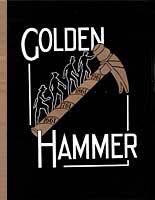 a history
Chapter 11
End of an Era
Garton King Appliances as the successors to Garton & King for their part of the business continued the AGA Agency. When the AGA Cooker, invented by a Swede, first came to this country, Garton & King took the Agency as the natural successor to the old kitchen range. This was about 1930, and later it was made in England by an independent company. However, the company was taken over by a succession of firms and was for a time under the umbrella of the owners of the old Coalbrookdale Ironworks, so reviewing a very old association. The Ironworks celebrate their 300th Anniversary in 2009.
When Garton & King went into voluntary liquidation, it was arranged that certain Holladay money was made available to finance Garton King Appliances, which continued to be managed by Alec Holladay aided by his son Michael; they were joined by Alec Holladay's wife Gabrielle. In 1980 they removed the old workshop and stores and base from Tan Lane to premises in the Old Goods Yard, off Richmond Road, previously occupied by the Devon Trading Company, whilst the showroom remained at 19 North Street where a replica of the Golden Hammer still marks the premises. On redevelopment of the Richmond Road location a new Cookware and AGA Showroom was established at the Dart's Farm Village at Clyst St George, the shop in North Street remained.
In 1988 Alec Holladay wanted to retire, and as his son Michael did not wish to undertake the future management of the company, it was arranged for certain employees to buy the company and so enable it and them to continue to serve the West Country being completed on the 3rd May 1990.  Whilst it is sad that the Holladay family no longer has a stake in the business, they still support it and hope that, as in the past, it will continue under new ownership to meet the future's challenges
Alec Hugo Holladay died on the 1st November 2003; his elder brother Henry Edgar Eland Holladay died on the 6th May 2007, aged 94.
The original Golden Hammer that used to hang outside the Foundry in Tan Lane is loaned to the Royal Albert Memorial Museum and it is hoped it will again be on show to the public, together with other artefacts from Garton & Kings past, when the museum re-opens after its extensive refurbishment."