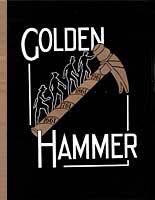 New Pages

a history

Welcome to the Exeter Foundry Website
The Holladay family, who have been involved with the business of Garton & King from 1898 until 1990, have put together this History of the Company and hope you will find it of interest.
Garton & King, and its predecessors (which includes, amongst others, King & Munk and Garton & Jarvis) can trace their trading history back to 1661, that is well over three hundred years of business within Exeter, mostly in and around the High Street.
Since the Website was created in 2009 we have added much additional information. Chapters on 'The Dunbar' or to use its catchier title 'The Curious Incident of the Sunken Stoves' and then a Chapter on the almost unbeaten length of time the Company has been AGA Agents under the Title 'AGA, A Grand Affair'. We have also added the Guestbook and some interesting comments have been posted, some by past employees and if you have worked in the past for the Company, either under Alec in the Showroom or down at the Foundry when it was at Tan Lane you are sure to recognise some of the names mentioned in the Postings. Perhaps you will be suitably inspire to add your comments - but keep it clean, no Foundry Language please! or, if you would rather, contact me direct.If you have any Archive Material or memories I really would like to hear from you - see the 'About Me Page' for contact details.
We now have much more information on Stove Sales and an alphabetical list of who bought what and where they lived. A new addition to the Home Page will take the form of an image or two of items I have discovered or have been told about and a brief description. This will be up dated every month or so - in time it is hoped to create, perhaps every 6 - 9 months or so, a Chapter incorporating these and other discoveries and providing more detailed information.
Don't forget, if you live fairly local to me (Chudleigh) and belong to a Club or Social Group I am equipped to give Illustrated Talks on G & K Ltd's History - all my Contact Details are on the About Me Page.
What Service Do You Require?
Those of you born before the 1960s (or Doctor Who fanatics) will certainly recognise at least one of the colour images, possibly both. The two black & white images belong to a much earlier era and have been discovered in the Garton & King Archives. Quite when they date from I have no idea, possibly they were on our streets (of Exeter at least) before the ubiquitous Red Phone Box. Further information I do not have. Long standing residents of Exeter may recognise the location of the Lamp Standard - if so let me know please. Careful examination of the sign on the ladder rest of the lamp states:-
Exeter Gaslight & Coke Company
NOTICE A reward of Ten Shillings will be given for information leading to the conviction of any person for breaking the glass of any Public Lamps.
You have been warned! Are there any Gas Lamps still in Exeter?