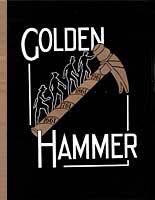 New Pages

a history

Welcome to the Exeter Foundry Website
The Holladay family, who have been involved with the business of Garton & King from 1898 until 1990, have put together this History of the Company and hope you will find it of interest.
Garton & King, and its predecessors (which includes, amongst others, King & Munk and Garton & Jarvis) can trace their trading history back to 1661, that is well over three hundred years of business within Exeter, mostly in and around the High Street.
Since the Website was created in 2009 we have added much additional information. Chapters on 'The Dunbar' or to use its catchier title 'The Curious Incident of the Sunken Stoves' and then a Chapter on the almost unbeaten length of time the Company has been AGA Agents under the Title 'AGA, A Grand Affair'. We have also added the Guestbook and some interesting comments have been posted, some by past employees and if you have worked in the past for the Company, either under Alec in the Showroom or down at the Foundry when it was at Tan Lane you are sure to recognise some of the names mentioned in the Postings. Perhaps you will be suitably inspire to add your comments - but keep it clean, no Foundry Language please! or, if you would rather, contact me direct.If you have any Archive Material or memories I really would like to hear from you - see the 'About Me Page' for contact details.
We now have much more information on Stove Sales and an alphabetical list of who bought what and where they lived.
A new addition to the Home Page will take the form of an image or two of items I have discovered or have been told about and a brief description. This will be up dated every month or so - in time it is hoped to create, perhaps every 6 - 9 months or so, a Chapter incorporating these and other discoveries and providing more detailed information.
Don't forget, if you live fairly local to me (Chudleigh) and belong to a Club or Social Group I am equipped to give Illustrated Talks on G & K Ltd's History - all my Contact Details are on the About Me Page.
Richard Holladay. (May 2013)
Cooking Stoves
Victorian and early Edwardian times
As winter makes it mark on the countryside and the temperatures fall, spare a thought for the working family in the middle to late 19th and early 20th Centuries.
We do so love to immerse ourselves in self pity and gripe about fuel costs and how to make the housekeeping budget spread a little further but spare some thought for our predecessors in those Victorian and early Edwardian times.
Shown here is what those working families had to cook on and heat water on and from. Whereas Town Gas might have been available to urban residents - electricity was in its infancy and no-one had ever heard of Microwaves, Combi Boilers, Ceramic hobs or even AGAs and Multifuel Cookers - in the smaller towns and villages and out in the Countryside this is the sort of stove on which many families used in the kitchen and on which they were dependant.
With the increased use of Gas Cookers as more and more Gasworks were commissioned and the spread of the Electric Grid System and the development and improvement of Electric Heating and Cooking Appliances it is hard to imagine just what our forebears had to depend on on a daily basis.
What is even harder to imagine is a home that still retains the stove used by the smaller household of that era, albeit not in use, and to go to an extreme, to discover the Holy Grail - a GARTON & KING Cottage Stove still in its original location!
In order to save the owner of the stove from unwelcome visits from enterprising Cooker Salesmen and offers of Hot Meals on Wheels deliveries we can assure you that this owner does have satisfactory up to date Cooking and Hot Water Appliances. I can, however, inform you that this stove is in as property in the Sidford area of Devon and the owner came across this website when she attempted to discover more about the Stove and its manufacturer.
A cheering tale to show that these stoves still survive, some of them may be approaching 150 years of age but this is the first one I have heard about and seen in ten years of searching.
The more observant of you may have already noticed that the image in the advert and the actual stove are mirror images - close inspection of the advert states, however, that both Right Hand and Left Hand versions were available.
If YOU know of a Garton & King, or Garton & Jarvis Stove, Radiator or Boiler of the Victorian or Edwardian era OR an AGA still in use manufactured BEFORE 1940 please tell me about it, my contact details are on the About me page.