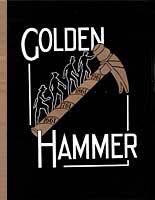 a history
Railings, Palings, Bars and Barriers
Keep them out or keep them in!
One of my favourite pastimes when I was small was running a stick along the bars on a set of railings – the faster you ran, the better the noise!
G & K made railings for all manner of houses and institutions, schools, parks and even cemeteries. Nowadays steel palings are popular. Network Rail are a great customer for these but in days gone the appearance was combined with the effectiveness, especially around public buildings.
In May 1862 a quote was sought for the provision of well over 850 feet of Iron railing to surround the Cathedral Yard in Exeter. In those days railings were springing up everywhere, though it is hard to find examples of Garton & King's work still around, but not so hard to find photographs. St Thomas Church once boasted a fine length of railing alongside Cowick Street – what is there today is but a shadow of the former glory. Teignmouth Pier was another customer and less elaborate styles were to be seen along Bonhay Road. Keep your eyes open for the sepia pre-war photos of such places as The Eye Infirmary, the old Devon & Exeter Hospital, Wonford Hospital and many of the graveyards – St Davids Church comes to mind. In the country field railings were everywhere – still to be seen nowadays – not too impressive visually but quite effective and durable. Killerton or Powderham have many a mile still.
3 Pennsylvania Crescent
No 3 was my Grandfather's House up until 1964. The more ornate railings and gates were commandeered in the Drive for Metal in the 2nd World War. The photograph is of the original gates and railings – whether they were made by Garton & King I cannot say, but the lad in the picture is my Uncle and I would date the picture around 1925.
3 Pennsylvania Crescent
In 1953 – I've converted the date from Roman Numerals for the benefit of the uninitiated, actually the 2nd of June, Garton & King made a new set of Railings and Gates and the inscription reads literally "GARTON & KING EXETER MADE THESE II-VI-MCMLIII"
3 Pennsylvania Crescent
The later, Art Deco replacement for the Pennsylvania Crescent railings.
Bratton Clovelly War Memorial
The War Memorial is surrounded by Railings and Posts made by Garton & King. These were put up after the Great War and the lettering is of the Old Style as used on early pre 1924 material. 1924 was the year Garton & King became a Limited Company. No drawings exist for this work and they were discovered by me purely by chance when driving by in a bus in 2007.
The Deerstalker Monument
The history of this artwork is well documented at the Exeter Memories Deerstalker page. I have reproduced the Garton & King Photo and Scale Plan pictures here as well.
The Deerstalker Monument railing plan drawing.
Sir Thomas Dyke Acland
If statues have a life then I'm afraid Sir Thomas's has had a hard life. Although it is fairly common knowledge that he lost his head, his finger and other parts of his anatomy he lost the hold on his original location and, what is more, he lost his rather grand and ornate railings, the drawing of which is reproduced here.
Whether they were or not ever erected I do not know – perhaps someone knows of a photo of the statue in its original location?
New North Road, Exeter
These railings extend for a considerable distance along the east side of New North Road. Other examples exist elsewhere within the City. These are by Garton & King (pre 1924) but many are also marked Taylor & Bodley.
New North Road, Exeter
Also to be seen is the drawing of this style of Support from the G & K Catalogue.
Cathedral Railings
This drawing is for the Railings surrounding the Tomb of the Earl of Devon, in the Cathedral. The current railings are post war. The location for the supports for the original railings can be seen on the floor where the holes were filled in leaving a series of regular light coloured circular patches in the flag floor. Another victim of the War effort.
Extract from John Garton Junior's September 1848 price and order book
Enlargement of these images will show the care to detail and skilful drawings that J. Garton Jnr made in a notebook not much bigger than 5 inch x 7 inch.
Tomb Railings feature amongst the pages and one example shown are is not for Easton & Son in 1849 and another diagram for the Tomb Railings for a Mr R. Cornish Esquire for a Tomb in Alphington Church Graveyard.
Extract from John Garton Junior's book
The gates shown were Entrance Gates for a Mr Reade of Budleigh Salterton, 18439. 
Bull Meadow Pleasure Grounds
This Drawing shows the plan for hurdles and gates at Bull Meadow for Exeter City Council. How many times have I passed by I cannot recall and for the moment. I must suggest they have long since gone – perhaps some of our more mature viewers may remember them and maybe they might forward me a photo?